so far no good
---
Posted by Donovan from mail.bauerpublishing.com (209.178.193.64) on Wednesday, April 02, 2003 at 1:06pm :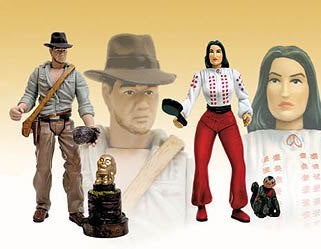 So, as an Indytoy collector I thought I would take a moment to register my disgust at the pics of the new Disney Theme Park Indiana Jones Figures.
These are quite possibly the ugliest figures I have ever seen.
My main problem with them is that the figures look like what Disney artists would make Indy and the others look like in an animated-on-the-cheap direct-to-video sequel (wasn't their version of the Cairo Swordsman actually in Aladdin?) They makes me pine for more of the first Disney Indy figure where the paint deco put his eyebrows halfway up his forehead which made him look like someone had just goosed him.
Given the care LucasFilm and LucasArts put into making the digital Indy in Emperor's Tomb look like the film Indy I'm really surprised at the travesty that is this figure assortment. They should be ashamed for letting Indy be Disney-ized to the point of looking like Buddy Hackett in a fedora.
Any thoughts?