PITA Productions' Diary
---
Posted by Indy Magnoli from lobolab10.unm.edu on April 21, 1998 at 13:06:40:
In Reply to: Henry's Grail Diary posted by Lionheart on April 20, 1998 at 15:58:20: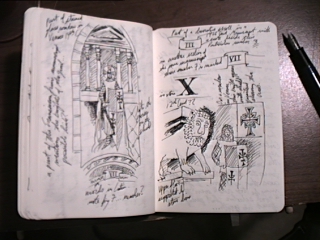 : Anyone know where I could get a real good replica of Henry Jones'grail diary with good drawings and sketches inside it?
Good news and bad news. I've produced many diaries over the years. Unfortunetly, I stopped making them because they were very time consuming (as you can imagine) to make. The e-mails wouldn't stop coming so I held a silent auction for one that I had finished just after quitting making them. The e-mails continue.
I will soon be graduating with a degree in archaeology. I have a history teaching job set up in New Zealand (I am American) but there school year doesn't start until February. So... I've got some time on my hands until then. E-mail me if you're interested in obtaining a diary between now and then. The last diary sold at the auction for around $200. I'll keep everyone's addresses and send out notice as I complete another one.
Here's some pages (I think Doug mentioned these):


---
---